A yoghurt chutney recipe that is perfect alongside any Indian meal. Milder than its green chutney counterpart, this yoghurt sauce recipe can be served as a dipping sauce to complement spicy chicken spring rolls or even as a sauce with the popular Indian dish of chicken biryani.
This Indian chutney recipe is spicier than the traditional mint raita recipe providing just enough kick to give a refreshing boost to anything that dips into it.
Serve this pudina chutney recipe as part of an Indian buffet to be a guaranteed success story for your guests.
This yoghurt chutney recipe uses my green chutney recipe as a base. I love having this with all my starters. It's so refreshing, yet still has that hit of spice that I need.
You can freeze this into ice cube trays and then pack it into Ziplock bags. When you are ready to use it, you can simply bring it to room temperature.
For 300g of yoghurt, I use about 3 tablespoons of the mixture. You can adjust as you prefer. Add more yoghurt or less depending on how spicy you want it.
I very rarely freeze this recipe, just because that's how easy it is to make. I mean all you need to do is add all the ingredients into the blender and add some yoghurt. The biggest pain is washing my blender!
One thing that is good to keep in mind with coriander is that most of the flavour comes from the stalks. Don't be tempted to only use the leaves as this will result in a less-than-ideal yoghurt chutney.
Check out these recipes
Here are some more recipes for you to enjoy! If you like them don't forget to rate and leave a comment.
If you have any recipe suggestions, please do not hesitate to ask me. A great way to stay in contact with me is through Instagram, Facebook, Twitter, and YouTube. Don't forget to tag me @cookwithnabeela in your recipe photos!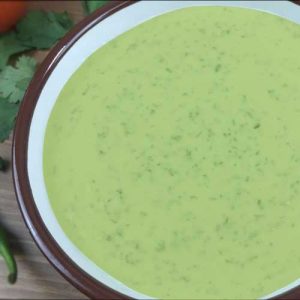 Yoghurt Chutney
by Nabeela Kauser
This coriander and mint yoghurt chutney is essential for the true Indian cuisine experience. Refreshing, but combined with just enough heat from the spices, makes this the perfect accompaniment to any Indian buffet.
Prep Time
10

minutes
mins
Total Time
10

minutes
mins
In a food processer add all the ingredients (except the yoghurt) and blend until all the ingredients are broken down and form a thick paste

To use immediately add 3 tablespoons of the mixture into the yoghurt and mix to combine

The paste can be frozen by putting the mixture into an ice cube tray and freezing for 2-4 hours – once the cubes are frozen, they can be removed and put into a Ziplock bag to be kept in the freezer for up to 4 weeks

To use the frozen cubes, remove the cubes from the freezer then allow to defrost and come up to room temperature before mixing with the yoghurt

Serve as yogurt sauce dip with homemade appetisers or biryani.
Calories:
36
kcal
Carbohydrates:
5
g
Protein:
2
g
Fat:
1
g
Saturated Fat:
1
g
Cholesterol:
5
mg
Sodium:
372
mg
Potassium:
164
mg
Fiber:
1
g
Sugar:
2
g
Vitamin A:
1146
IU
Vitamin C:
9
mg
Vitamin D:
0.04
µg
Calcium:
71
mg
Iron:
1
mg
Keyword
Chutney, Dips, Ramadan, Sauces, Spicy, Yoghurt