Ah, one of my favourite desserts to eat. The thing that I love about Indian desserts is that they always use such simple ingredients but still end up tasting delicious and this recipe is no exception.
I have kept this milk seviyan recipe simple and plain, so you can adjust to your personal preference with additions of chopped nuts, dried fruits, or nuts. However, you choose to enjoy it you will be sure to love this recipe.
Unlike in my falooda recipe in this milk seviyan recipe, the vermicelli that needs to be used is ones that are made from wheat. These are the most common vermicelli, so they are easily found in most supermarkets or Indian grocery stores.
As with most of my milk dessert recipes I use full-fat milk. It makes it that much creamier. If you're having a dessert, you might as well go all out. Treat yourself occasionally! However, you can use semi-skimmed milk as well if you really want to.
To make this recipe vegan the milk can be swapped out for almond or cashew milk. There are other kinds of milk that you can use as well and it is all up to which type of vegan milk you prefer.
Depending on how thick you would like the end result to be you can adjust the quantity of milk you use. You can use more milk or less vermicelli for a thinner consistency. If you wanted a thicker consistency, you could use less milk or more vermicelli.
Seviyan kheer, also known as vermicelli kheer, is one of my most favourite desserts, made quickly and simply with only a few ingredients.
Milk seviyan is a popular dessert that is perfect for special occasions, such as Eid, and occasions such as Ramadan. This easy recipe comes together in half an hour.
The perfect sweet dish for any occasion and can be decorated with almonds, pistachios, or anything you desire. Delicious, tempting, and tasty means that it is loved equally by children and adults. A perfect source of all your calcium needs for your little ones.
Here are some more recipes for you to enjoy! If you like them don't forget to rate and leave a comment.
If you have any recipe suggestions, please do not hesitate to ask me. A great way to stay in contact with me is through Instagram, Facebook, Twitter, and YouTube. Don't forget to tag me @cookwithnabeela in your recipe photos!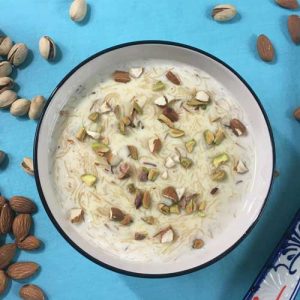 Milk Seviyan
by Nabeela Kauser
Seviyan kheer is a popular milk dessert flavoured with spices and nuts of your choice. A creamy and rich dessert this recipe can be served hot or cold. Popular on festivals, such as Eid, this recipe is perfect for parties and family get-togethers.
In a saucepan add the butter and allow it to melt completely on low heat

When the butter has completely melted add the vermicelli and cook for 3-4 minutes, stirring continuously to keep it from sticking, until it browns

Once the vermicelli has browned slowly add the milk, stirring as you add, and allow it to come to a gentle boil

Once it has browned add the sugar then mix before reducing the heat and allowing it to simmer for 5-10 minutes until thickened to your personal preference

Garnish with pistachios or almonds and enjoy!
Calories:
312
kcal
Carbohydrates:
45
g
Protein:
9
g
Fat:
10
g
Saturated Fat:
6
g
Trans Fat:
0.1
g
Cholesterol:
36
mg
Sodium:
160
mg
Potassium:
395
mg
Fiber:
0.4
g
Sugar:
25
g
Vitamin A:
480
IU
Vitamin D:
3
µg
Calcium:
322
mg
Iron:
0.2
mg
Keyword
Dessert, Milk, Seviyan