This super delicious pizza bread recipe is the perfect breakfast idea and a meal for the kids that they will be guaranteed to enjoy. Paired with my delicious homemade pizza sauce recipe this pizza toast recipe is superb for kids.
Covered in an array of vegetables on a crust of wholemeal bread makes this a healthy alternative that makes sure that kids will get their five a day. Mix it and add some tuna or chicken pieces for a protein kick to their meals.
You can even get your kids involved, that's how easy and quick this recipe is! Serve alongside a garlic and herb dip and enjoy!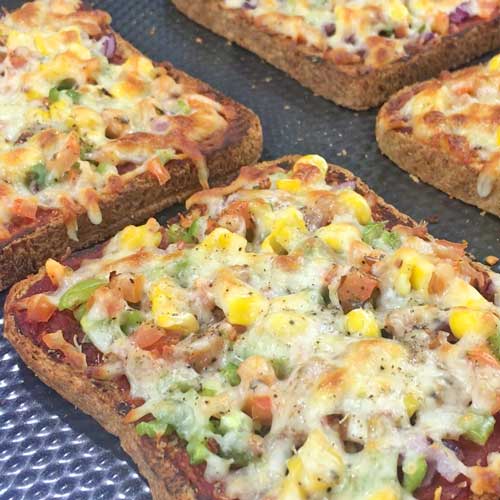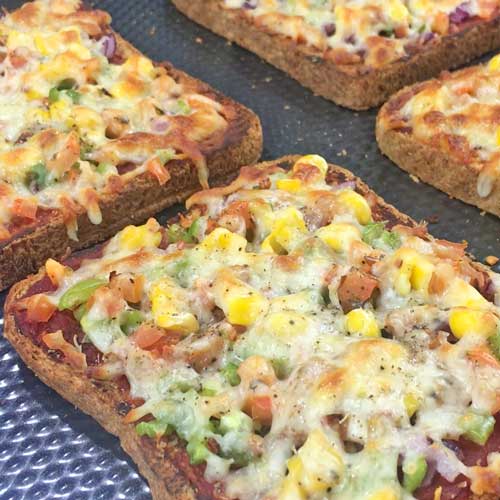 My kids love to eat pizza. However, it's not always practical to make fresh pizza dough from scratch, so I created this pizza bread recipe. It's perfect for busy parents who have jam-packed schedules.
It's ready in under 30 minutes and the kids will be sure to love it. They can even choose their own toppings. I like to use bell peppers, onions, and sweetcorn. However, choose whatever vegetables you want!
I like using wholemeal bread, but you can use whichever bread you like. It depends on whatever you have on hand.
I always make my pizza sauce from scratch, and it's kept in the freezer for up to 3 months. This means that you can just take out a batch from the freezer to use in this pizza bread recipe.
I like to use mozzarella cheese, but you could use any type of cheese that you like. It is best to use blocks of cheese and then grate it yourself at home. Pre-grated cheese has added preservatives. This can result in cheese that doesn't melt together as well as the cheese that you freshly grate yourself.
Here are some more recipes for you to enjoy! If you like them don't forget to rate and leave a comment.
If you have any recipe suggestions, please do not hesitate to ask me. A great way to stay in contact with me is through Instagram, Facebook, Twitter, and YouTube. Don't forget to tag me @cookwithnabeela in your recipe photos!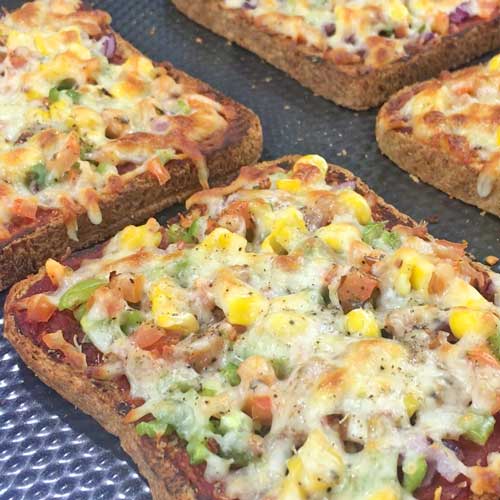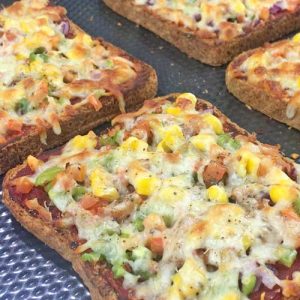 Pizza Bread
by Nabeela Kauser
This pizza bread recipe is perfect for the kids after school snack or even for a quick dinner recipe. Use a variety of toppings and adjust to your preference. Made in under 30 minutes, this snack recipe is definitely one to keep!
Cuisine
American, Italian
Toast the bread slices until lightly browned on either side

As the bread is being toasted finely chop the red onions, bell pepper, sweetcorn, and tomatoes

Place the toast on a large baking tray then spread a spoonful of pizza sauce across the toast

Add the red onions, bell peppers, sweetcorn, and tomatoes

Add the oregano and chili flakes then top with mozzarella cheese and sprinkle on the black pepper

Bake in a preheated oven at 180°c (360°f) gas mark 4 For 6-8 minutes

Serve with French fries and a garlic dip then enjoy!
Keyword
Bread, Homemade Pizza, Kids Snacks, Pizza