Cod curry is a common delicacy in South India and Bangladesh, and it tastes delicious. Fish curries in general, like my tuna curry, are extremely simple to make and quick.
This makes them the perfect starting point for beginners and those with not much experience in cooking. Curries can sometimes seem like daunting recipes, but with my recipes, you'll be an expert in no time!
One of the best things about this recipe is that it uses cod. This makes this cod fish curry a nutritious and healthy curry recipe with numerous benefits. You could change the fish species you use to pollock or halibut or whichever fish you prefer.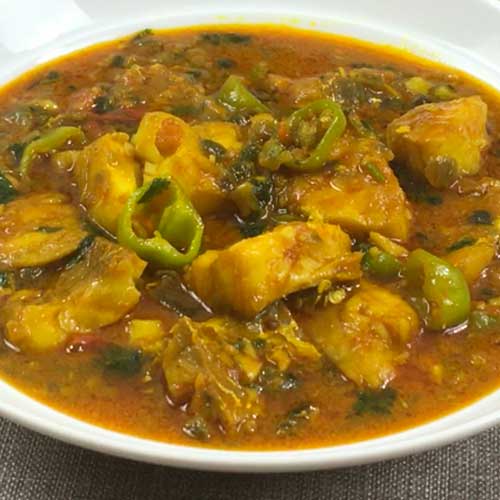 Personally, I like to use cod fish because it has a wide variety of benefits. It is a low-fat source of protein, meaning that you get all the protein with none of the fat!
This makes this recipe the perfect choice for those who want to reduce their fat intake and improve their general health.
This recipe is very simple with minimal ingredients. However, this curry does not lack in flavour. Cod fish is one of those ingredients that always taste great.
Not many other ingredients are needed to create a tasty curry. This cod fish curry is not too spicy, but it still manages to make your mouth burst with flavours.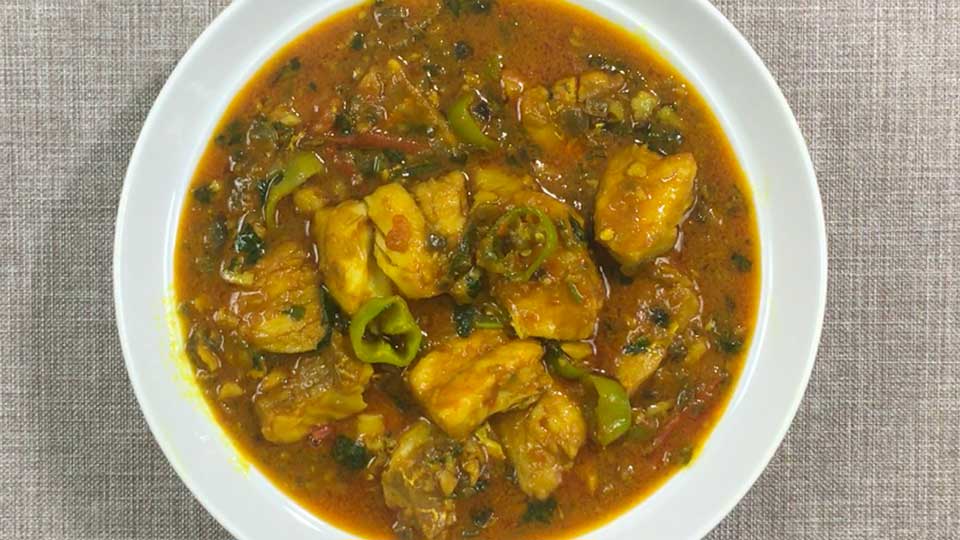 Craving a curry? This fish curry recipe is delicious and fragrant and ready in a flash. Cod fish curry can be paired perfectly with homemade garlic naan bread or even with boiled rice.
This cod fish curry recipe is so easy and simple that you will have no choice but to make it again and again.
An easy-to-prepare midweek meal made in one pot that's healthy and packed with protein. The Indian fish curry recipe will even become a favourite amongst even the picky eaters. Another curry recipe that will be guaranteed to join your cookbook!
Here are some more recipes for you to enjoy! If you like them don't forget to rate and leave a comment.
If you have any recipe suggestions, please do not hesitate to ask me. A great way to stay in contact with me is through Instagram, Facebook, Twitter, and YouTube. Don't forget to tag me @cookwithnabeela in your recipe photos!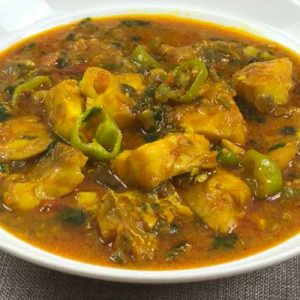 Fish Curry
by Nabeela Kauser
A healthy cod fish curry packed with flavour. A simple and quick Indian curry recipe that is perfect for beginners and for a quick midweek meal. Pair this delicious and fragrant cod fish curry with chapatti or homemade garlic naan bread.
Course
Dinner, Main Course
In a pan heat up the oil and add the garlic paste and sauté for 1 minute until fragrant

Add the chopped onions and cook for 3-4 minutes until golden brown and soft

Add the chopped tomatoes and cook for 3-4 minutes until the tomatoes become soft

Add chilli powder, turmeric powder and salt then cook the spices for 4-5 minutes, adding the water to ensure the spices do not burn

As the spices cook cut the cod fish into chunks and gently mix then cook for 5 minutes until the fish is cooked

Add the finely chopped coriander and bullet chillies and cook until the oil has separated – the oil has separated when there are small bubbles appearing and the oil has formed a thin layer on top

Serve immediately and enjoy with fresh naan bread!
Calories:
265
kcal
Carbohydrates:
10
g
Protein:
18
g
Fat:
18
g
Saturated Fat:
2
g
Trans Fat:
0.1
g
Cholesterol:
42
mg
Sodium:
446
mg
Potassium:
577
mg
Fiber:
3
g
Sugar:
5
g
Vitamin A:
804
IU
Vitamin C:
45
mg
Vitamin D:
3
µg
Calcium:
37
mg
Iron:
1
mg
Keyword
Curry, Dinner, Fish, Spicy