I am sure this chickpea curry needs no introduction. People will most commonly know this curry as chana masala, but in my family, we refer to chickpeas as chole.
Regardless of what you choose to call this classic vegetarian (and vegan!) curry, you will definitely love my recipe for it. This chickpea curry is a wonderful comfort food and one of my favourite curries out there. It's a hearty and saucy chickpea dish with a dash of warming spices. What isn't to love?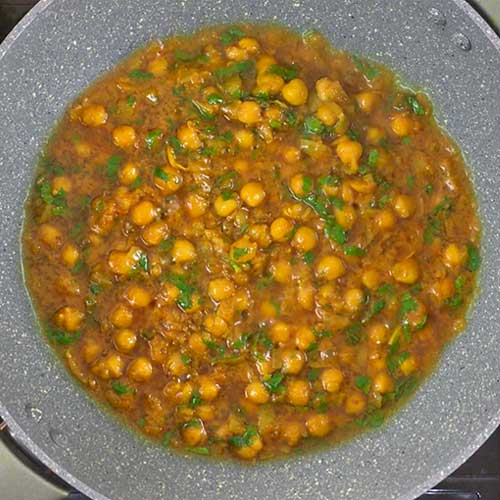 Traditionally chole bhature (yet another name for this famous curry) is served as a breakfast item alongside puri. This is something that is very common in India and Pakistan and there were many occasions when I ended up having this curry for my morning meal. Not so much in the UK though! I like to enjoy this with my family as a nice lunch or dinner meal with a side of chapatti.
In this recipe, I use fresh chickpeas, but you could just as easily use canned chickpeas if you are short on time and want to make this curry in a hurry (that rhyme was completely unintentional, so I am rather proud of it).
Back to the recipe now. Chickpeas do need to be soaked overnight as this helps to soften them and makes them more digestible. I would recommend the chickpeas be left to soak overnight.
This chickpea curry genuinely is something that is perfect for everyone regardless of dietary needs. It's vegetarian. It's vegan. It's gluten-free. Best of all, it's packed FULL of protein making this a wonderful substitute for those who don't eat meat.
The spices in this curry aren't too overpowering but provide just a little kick to get those taste buds buzzing. Even meat-lovers will love this curry.
With this recipe, you will be able to make a delicious and flavourful Indian adored by people all over the world. Chana curry, otherwise known as chickpea curry, is a simple curry that with my recipe, can be made any time of the day.
This authentic restaurant-style Indian curry will ensure that every bite you take is filled with flavour. Enjoy a myriad of items including paratha, basmati rice, and naan. Quick and simple chana masala recipe. In this video, I will show you how to make chana masala curry also known as chickpea curry.
Here are some more recipes for you to enjoy! If you like them don't forget to rate and leave a comment.
If you have any recipe suggestions, please do not hesitate to ask me. A great way to stay in contact with me is through Instagram, Facebook, Twitter, and YouTube. Don't forget to tag me @cookwithnabeela in your recipe photos!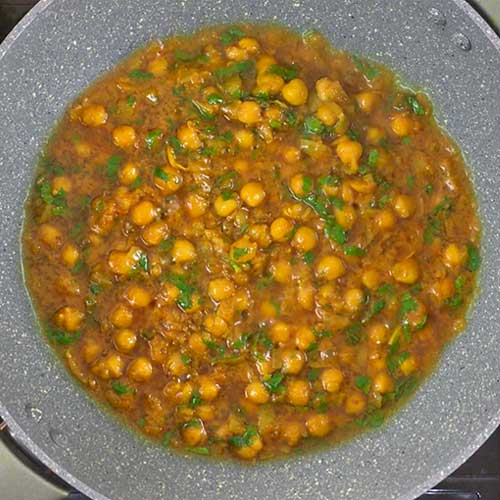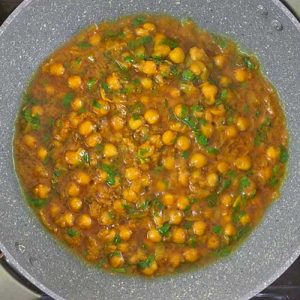 Chana Curry
by Nabeela Kauser
This authentic chana masala is a popular breakfast recipe all across India and Pakistan. Fresh chickpeas are lathered in a delicious and spicy masala sauce.Serve alongside a side of puri for a traditional desi breakfast.
Prep Time
10

minutes
mins
Cook Time
1

hour
hr
20

minutes
mins
Total Time
1

hour
hr
30

minutes
mins
If using fresh chickpeas, then leave to soak in at least 600ml of water overnight

Add the oil into a pan and heat on medium heat until warm

Add the diced onions and cook for 4-5 minutes on medium heat until softened and golden brown

Add the chopped tomatoes and cook for a further 3-4 minutes until the tomatoes have softened.

Add the salt, chilli powder, turmeric powder, garlic paste and green chilli then cook the spices for 3-4 minutes

Remove 100ml of the water from the chickpeas and add the pan to ensure that the spices do not burn and cook for another 5 minutes

Drain the chickpeas and set aside the remaining water then add the drained chickpeas to the mixture and reduce the heat to medium before cooking for 2-3 minutes

Add 500ml of the drained chickpea water and cook for 1 hour until the oil has risen to the top which will indicate that the curry is cooked – the chickpeas may take longer than 1 hour to cook and if the water has evaporated you may add more water to help cook the chickpeas

Add the cumin powder then cook for 2-3 minutes

Finely chop the coriander then add into the pan and cook 1-2 minutes

Serve alongside puri and enjoy!
Calories:
374
kcal
Carbohydrates:
30
g
Protein:
9
g
Fat:
25
g
Saturated Fat:
3
g
Sodium:
435
mg
Potassium:
451
mg
Fiber:
8
g
Sugar:
7
g
Vitamin A:
472
IU
Vitamin C:
11
mg
Calcium:
71
mg
Iron:
4
mg
Keyword
Chana, Chickpeas, Cooking, Curry, Food