A delicious spaghetti recipe made with homemade tomato sauce and chicken. Made in under an hour, this dinner is easy to make meal perfect for busy weekdays. An absolute lifesaver for those days when you have nothing to make.
Healthy, hearty, and packed with flavour, this pasta recipe is just too good to be true. Made with strands of spaghetti coated with delicious marinara sauce and chunks of salt and pepper chicken.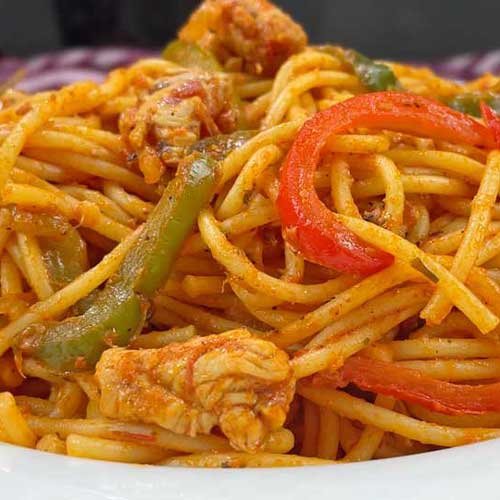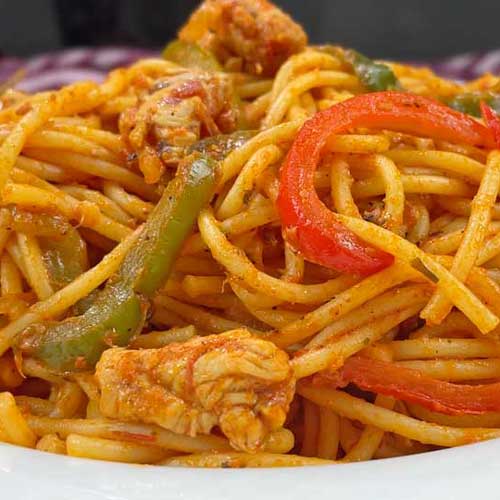 My daughter loves spaghetti, and this is one of her favourite recipes yet. This and my honey BBQ chicken wings. I know that even if I gave her those two food items every day for breakfast, lunch, and dinner still she would never get fed up.
I like to use spaghetti in this recipe. The tomato sauce coats the strands of pasta really well. You could use any pasta you like, such as fusilli pasta. I have a chicken pasta recipe that uses fusilli pasta.
I season the chicken with a dash of salt and black pepper. Simplicity is sometimes best, and I can guarantee you that this chicken spaghetti pasta recipe is delicious. You can spice it up with a few chilli flakes if you want to, but it really doesn't need it and trust me I'm the first person to spice up my dishes.
I always make my pasta sauce fresh. The recipe is like my pizza sauce with a few additions. However, if you are short on time then you can use store-bought pasta sauce.
Fresh is always best though! Most of my sauces are good to freeze for at least a month, so prepare them beforehand and just take them out of the freezer when you want to use them!
Here are some more recipes for you to enjoy! If you like them don't forget to rate and leave a comment.
If you have any recipe suggestions, please do not hesitate to ask me. A great way to stay in contact with me is through Instagram, Facebook, Twitter, and YouTube. Don't forget to tag me @cookwithnabeela in your recipe photos!
Chicken Spaghetti
by Nabeela Kauser
Salt and pepper chicken chunks coated in a homemade tomato sauce then mixed in with spaghetti. A delicious dinner recipe perfect for families and individuals alike.
Prep Time
15

minutes
mins
Cook Time
30

minutes
mins
Total Time
45

minutes
mins
Course
Dinner, Main Course
Bring a large pot of salted water to a boil then add the spaghetti and stir it gently until all the strands sink beneath the water level and ensure that the strands are not stuck together

Allow to gently simmer for 8-10 minutes, be sure to stir the pasta occasionally to prevent it clumping together, until al dente – al dente refers to when the spaghetti is cooked through but is still firm to bite

As the spaghetti is cooking add the oil into pan and heat up medium heat until hot

Add the finely chopped garlic then sauté for 1 minutes

Add the onion and cook for 3-4 mins

Add the chicken and cook for 4-5 until the chicken changes colour and turns white

Add then salt and black pepper then cook for 2-3 mins

Finely chop the bell peppers then add into pan and cook for 3-4 minutes

Add the pasta sauce then cook for 3-4 mins

Drain the spaghetti and add into the chicken mixture then cook for 2-3 minutes to allow the sauce to coat the spaghetti properly and the spaghetti to soften

Serve with a side of green salad and enjoy!
Calories:
306
kcal
Carbohydrates:
44
g
Protein:
12
g
Fat:
9
g
Saturated Fat:
2
g
Trans Fat:
0.02
g
Cholesterol:
18
mg
Sodium:
646
mg
Potassium:
385
mg
Fiber:
3
g
Sugar:
5
g
Vitamin A:
873
IU
Vitamin C:
31
mg
Vitamin D:
0.05
µg
Calcium:
30
mg
Iron:
2
mg
Keyword
Chicken, Dinner, Pasta, Spaghetti