I know there are so many different chicken curries out there. And when I mean there are so many, I mean SO MANY.
I have basically lost count of from the classic chicken jalfrezi to the traditional butter chicken to the British chicken tikka masala to the authentic chicken karahi. However, each chicken curry recipe has its own special place in my heart.
I like to use chicken drumsticks in this chicken masala curry recipe because that's just my personal preference as I like to use bone-in chicken.
However, you can use chicken breasts or other boneless chicken pieces as well. Just use whatever you like. If you want to use boneless chicken, then remember to reduce the cooking time as bone-in chicken takes a bit longer.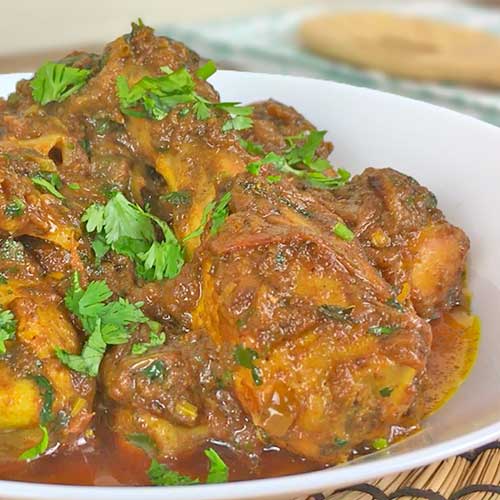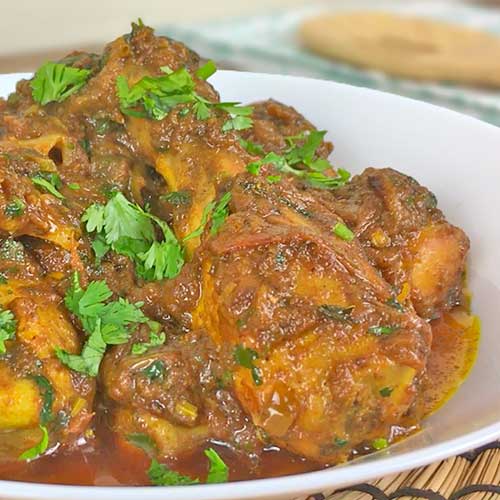 The restaurant versions of this chicken masala recipe take time to prepare and always use cream or yoghurt. However, my chicken masala recipe is very simple.
It needs no blending, no overnight marination, no yoghurt or cream yet it does not compromise on any flavour at all! So, if you're lactose intolerant or if you want a quick curry night meal then you have found the chicken curry recipe for you!
I love to have this chicken curry with a side of naan, although chapatti is much more frequently made at home, it is entirely up to you. Sometimes I serve it with my lamb pulao or chicken pilau rice, and it goes perfectly.
Usually, when I serve it with rice, I do tend to water it down so when I drench my pilau with this spicy curry the rice can absorb all of the flavour. It just tastes so yum!
Another one of Britain's favourite dishes, chicken masala! This takeaway favourite is perfect for those special occasions or for those lazy night ins. Chicken masala curry is a basic and cheap chicken recipe that you can easily whip up at home.
My recipe for chicken masala curry incorporates all the most delicious flavours and spices into one dish. Follow my recipe and you are guaranteed to have a tasty and delicious dinner!
Here are some more recipes for you to enjoy! If you like them don't forget to rate and leave a comment.
If you have any recipe suggestions, please do not hesitate to ask me. A great way to stay in contact with me is through Instagram, Facebook, Twitter, and YouTube. Don't forget to tag me @cookwithnabeela in your recipe photos!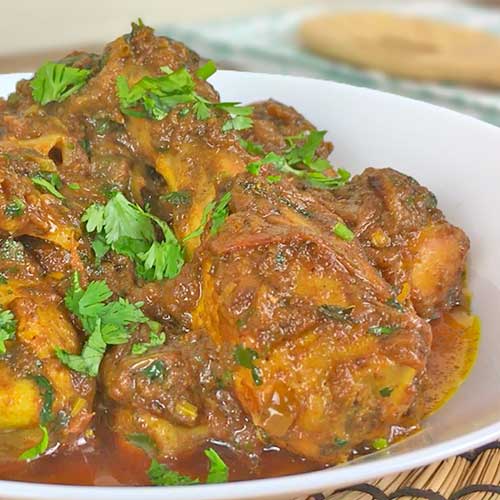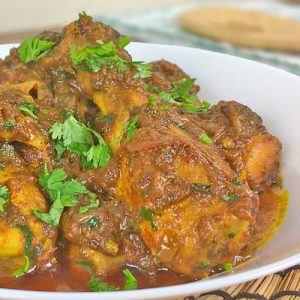 Chicken Masala
by Nabeela Kauser
One of the most simple, home-style Indian chicken curry recipes there is. This chicken masala recipe goes great with rice, chapatti, naan, and paratha. Each household is guaranteed to have its own, but this chicken curry recipe is perfect for the beginner and experts alike.
In a pan add the olive oil and heat up for 1-2 minutes on medium heat until hot

Add the finely sliced onions and cook the onions for 3-4 minutes until lightly browned – make sure that the oil is hot before the onions are added as this will allow the onions to soften properly

Add the chopped tomatoes and cook for a further 3-4 minutes until the tomatoes are soft

Add the salt, garlic paste, chilli powder, turmeric powder, garam masala and the finely chopped green chillies then cook the spices for 5 minutes ensuring that you add some water so that the spices do not burn

Add the chicken drumsticks and coat with the masala before covering with a lid and allowing to cook for 20-30 minutes – you can use whole chicken or other parts of the chicken if you prefer

Add the crushed cumin seeds, dried fenugreek leaves and freshly chopped coriander then cook for 2-3 minutes

Serve with naan bread and enjoy!
Calories:
342
kcal
Carbohydrates:
8
g
Protein:
16
g
Fat:
28
g
Saturated Fat:
6
g
Trans Fat:
0.1
g
Cholesterol:
60
mg
Sodium:
480
mg
Potassium:
382
mg
Fiber:
2
g
Sugar:
3
g
Vitamin A:
773
IU
Vitamin C:
14
mg
Vitamin D:
0.2
µg
Calcium:
32
mg
Iron:
2
mg
Keyword
Chicken, Cooking, Curry, Food, Masala